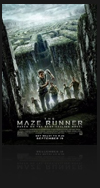 The Maze Runner

Nationwide - Constructed as a mystery, its various layers gradually unpeeling with each new discovery, "The Maze Runner" eschews a lot of early exposition in exchange for a more deliberate build-up. This first installment is certainly promising enough to warrant a continuation.

This Is Where I Leave You

Nationwide - A dramedy about the bonds and dysfunctions of family and the possibilities of roads not taken, "This Is Where I Leave You" is too pleased with itself by a half, hiding its valid truths behind a wall of mugging artificiality.

Tusk

Nationwide - Deeply weird and spectacularly wonderful. "Tusk" thrillingly, inventively lives up to the mystique of its conceptual birth. With Kevin Smith once again moving full throttle ahead with indie-spirited passion projects, it is an exciting proposition waiting to see what he'll dream up next.

Words and Pictures

Now on Blu-ray - Clive Owen and Juliette Binoche are exceptional in "Words and Pictures," sparring with acerbic flair even as their chemistry skyrockets. It is a joy to see a film that tackles the topic of art and its value in the world, and all the better that actors of Owen's and Binoche's caliber can lead it.

Read Full Review »
Read Blu-ray Review »



At the Devil's Door

VOD & Select Cities - Shifting central protagonists no less than three times throughout, the unconventionally structured, familiarly plotted "At the Devil's Door" keeps one guessing as to where things are headed, but then ultimately doesn't lead to a satisfying conclusion.

The Skeleton Twins

Select Cities - An observant double character study, "The Skeleton Twins" revolves around two protagonists who are worthy of the viewer's time and sympathy. The film gets beautiful mileage out of the sterling work of the indomitable Kristen Wiig and a revelatory Bill Hader.

New from TheBluFile:

The Latest Blu-Ray Reviews
New reviews include: "Night Moves," "Words and Pictures," "Pumpkinhead," "Graduation Day," "A Long Way Down," "They Came Together," "Cabin Fever: Patient Zero" and "Baby Blues."


Published Theatrical Reviews:
2,670

Dustin & his movie review
website were named a
"Hot Site" by USA Today!
This website is dedicated to the memory of Rhudel Putman II.