Hercules

Nationwide - Antiseptic and dreary with absolutely no dramatic pull until the final ten minutes, the film winds down just when it has located a last-gasp charge of energy. What, then, is the point? "Hercules" did right by casting Dwayne Johnson in the lead, but then lets him and the audience down. This is overpriced, distinctly unsatisfying Hollywood schlock without a trace of bite.

Lucy

Nationwide - Viewers accustomed to standard, straightforward action films of the mainstream, over-and-done variety might be initially turned off that "Lucy" has a brain to go along with its lead character's limitless synapses. What has been delivered instead—a movie of tireless ideas and exciting stylistic panache, taking one on a tour of existence itself—is so much more preferable.

Magic in the Moonlight

Select Cities - An inconsequential confection, done in by a rambling, featherweight narrative and the unavoidable miscasting of 53-year-old Colin Firth opposite 25-year-old love interest Emma Stone. With "Magic in the Moonlight," Woody Allen appears to have made a movie just to make one, bringing to it little of the passion, urgency and inspiration that separates his superior efforts from his second-rate fillers.

Featured Blu-ray Review:
Curtains
(1983)
(Release Date: July 29, 2014) – For too many years this underrated gem has been relegated to video store dustbins as just another half-forgotten relic of the early '80s saddled with a piss-poor transfer, but now, on this lovely disc, devoted fans and new viewers alike will be able to see just why this creepy, stylish, one-of-a-kind horror-thriller is worth (re)discovering and holding in high regard. Packed with quality special features on top of an already awe-inspiring A/V presentation, Synapse Films' "Curtains" Blu-ray should be an essential addition to everyone's collection. A MUST-OWN.
Boyhood

Select Cities - It is nothing short of stunning to watch "Boyhood" unfold. Richard Linklater's magnum opus offers more than what one has any right to expect from a film while simultaneously illuminating the incalculably infinite boundaries to which cinema is capable of going.

Killer Legends

Now Available On Demand; on DVD July 15 - Tailor-made for true-crime enthusiasts and folklore buffs. "Killer Legends" is an eerie, insanely watchable documentary with the entertaining Joshua Zeman and Rachel Mills acting as tour guides to the birthplaces of sobering, unthinkable crimes and the urban legends inspired by them.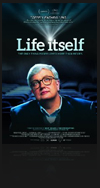 Life Itself

VOD & Select Cities - Flawlessly, heartbreakingly captures the transcendence of one's ever fleeting existence. Roger Ebert may no longer be here, but his impact and legacy will endure. For someone who loved movies as much as he did, he would be pleased to find that "Life Itself" is one of the year's very best.

New on DustinPutman.com:

Featured Blu-ray Releases
The latest Blu-ray reviews include: "Curtains," "All Cheerleaders Die," "The Angriest Man in Brooklyn," "Under the Skin," "SX_Tape," "Lake Placid," "Stage Fright," "Rigor Mortis," "The Final Terror" and "Wolf Creek 2."


Published Theatrical Reviews:
2,670

Dustin & his movie review
website were named a
"Hot Site" by USA Today!
This website is dedicated to the memory of Rhudel Putman II.